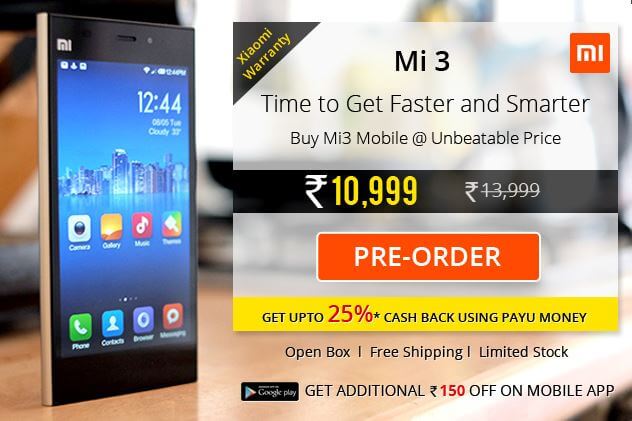 Xiaomi has once again conducted a discount campaign for it's flagship Xiaomi Mi3. Once again, the phone worth Rs 10,999! GreenDust, a band of RLC, which is known for making gadgets available at discounted price tags, has announced an unboxed flash sale of Xiaomi Mi3 on its website.
"Motivated by the positive response, we plan to continue with the expansion of the flash sale model to encompass more brands and categories," says Hitendra Chaturvedi, Founder & CEO of GreenDust.
The sale officially started yesterday at www.GreenDust.com. However, the drawback is that only a limited number of devices would be available for sale. The 5-inch Xiaomi Mi3 is packed up with numerous remarkable features like:
2.3GHz quad-core
Qualcomm Snapdragon 800 SoC.
3050mAh Li-ion Polymer battery
Full HD IPS display
Corning Gorilla Glass 3 protection
13 MP rear and 2 MP front-facing camera
, and lots, lots more!
Also, the discounted packs of Xiaomi Mi3 will be unpacked but will be completely unused and all those models having any kind of software bugs will be fixed by GreenDust before the delivery.
So what are you looking for? Hurry up, navigate to GreenDust.com and place your order to Xiaomi Mi3 only at Rs 10,999 now!