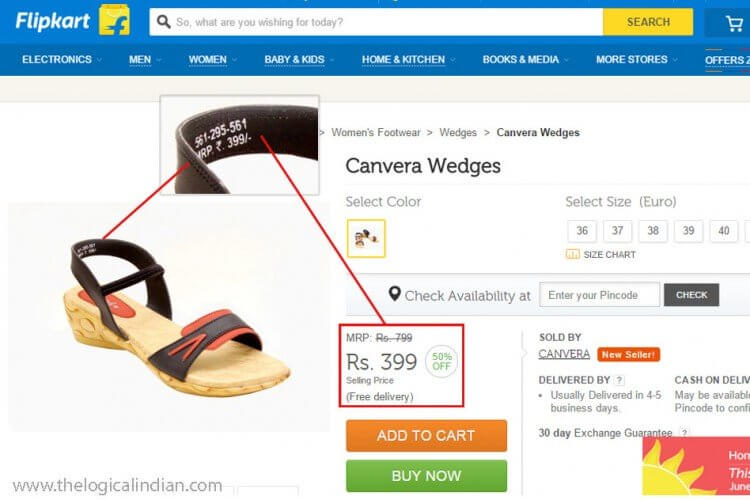 The social media just got hooked up with a brainstorming image that literally have made it difficult for us to show faith towards India's current E-Commerce industry. As you all know, a photo showing the fake high discounted rate went viral all over social media where a Flipkart merchandise, said to be priced at Rs 799 was being distributed for 399 whereas it's original price was 399 INR only! Here's an exclusive open letter by The Logical Indian addressing the nation's biggest Ecommerce store and the faith they've lost amongst their followers.
Dear Flipkart,
When it comes to product discounts and offers, it is hard to beat online shopping portals, including yours.
But we know that the prices of products are at times intentionally raised and a discount is then given on the higher price. Recently, one of your customers witnessed this first hand. An annoyed Mani Sankar Sen took to Facebook on Thursday and posted a screenshot of a product available on Flipkart. The product was a pair of women's sandals. The MRP of the product as written on Flipkart was Rs 799 and your site was giving a "50% off" on the sandals. The product could be bought for Rs 399. However, the original price of the product was also printed on the strap of the sandal which surprisingly was not Rs 799 but Rs 399.
He posted a screenshot of the webpage on your Facebook page to which your representative responded "Currently the product is not available anymore". The image has since then gone viral.
We know that this and similar issues are not just limited to your site but common with almost every e-commerce service provider and seller. But being India's leading e-commerce giant, we sincerely request you to focus more on your after-sales service and customer service. Kindly invest on developing mechanisms to verify the third party sellers you work with and remove such flaws. The customer trusts you and is least bothered about your third-party sellers.
Please don't lose your loyal customer base. Invest more in your service and quality, Invest less in your advertisements. Be loyal to your customers. No marketing strategies work better than good customer service.
This article was first published in The Logical Indian.
UPDATE:
Before taking down the above product from its listing, flipkart even took to photoshopping the image for once