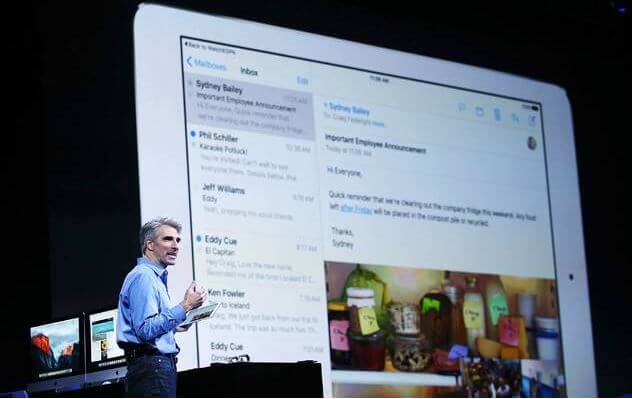 Apple today made it's official announcement of it's next Software update for iPhones and iPads. iOS 9, the next update officially announced will be supporting various devices like iPhone 4S (which I have!) and above, iPad 2 and above, all iPad mini models, and iPod touch fifth-generation.
The update isn't that huge as the users won't see any BIG significant changes, other than its voice assistant, Siri. Siri now has an API integration for search, and this is said to be 40% more accurate than the assistance last year.
The upgrade also offers a new Cards Interface in the search results. One of the example, is playing music from the spotlight. Apple is keeping it open for developers from 3rd party apps, to tap in.
The iPad users can now open two windows all together with the drag-and-drop feature of iOS 9. However, this feature will be available only on iPad Air 2, Air, mini 3 and mini 2. Apple has also finalized the launch of a news app of their own, mainly a competitor to Flipboard in order to give their users fresh news every day. A fascinating thing about this new app is that it'll present content on the Users' choice. Just like Flipboard, Apple News will also come with an explore tab highlighting the latest trendy and recommended coverage.
The apple maps app will finally have the transit direction feature. The functioning of this feature is made very handy. If you want to get a bus booking or look out for it's timings, all you have to do is tap on the bus stop. It will be initially rolled out in the US, UK and Australia.
Another thing that fascinated me a lot during this whole release was it's improved battery life. Apple has promised that it's improved version of battery life will be offering 3 hours more in it's battery. Apple also announced that it's door-to-door payment app, Apple Pay will be launched in July beginning. The company has also renamed its Passbook app to Wallet.
The iOS 9 version will be available to those devices updated with iOS 8, which is a bit shocking due to the rumors spread all over saying that iOS 8 will be the last version. For now, only the beta version is available and the public version will go live in July.